Join us for an immersive experience in Matsumoto City! Back by popular demand, there will be 3 chances to try a wide range of different cultural activities this summer and early fall. A full day of traditional Japanese cultural activities await you along Nakamachi Street. Learn more about some cool crafts and get to know the locals!
Located in the heart of Matsumoto, Nakamchi's lively history dates back hundreds of years to its days as a merchant storehouse district. The kura or storehouses have been well preserved and continue to hold wares, now in the form of chic shops and cafés.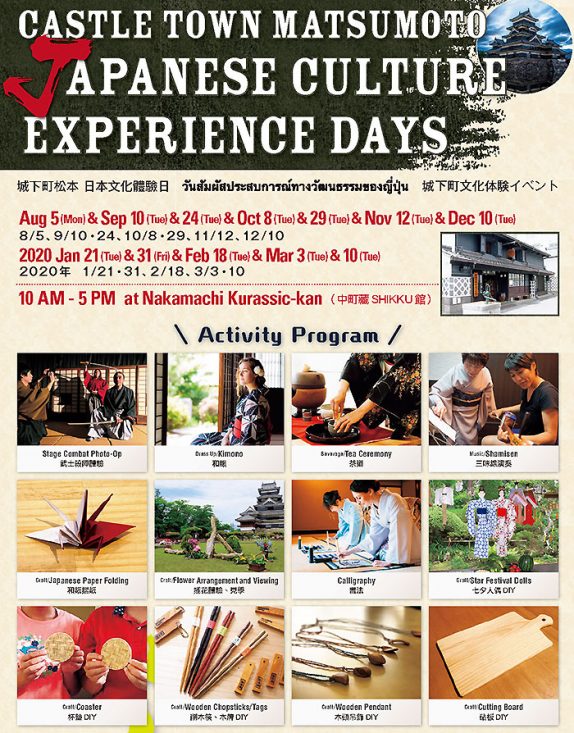 Where: Nakamachi Street, Matsumoto City, Nagano Prefecture
Dates: Aug 5, 2019 (Mon), Sep 10, 2019 (Tue), Sep 24, 2019 (Tue), Oct 8, 2019 (Tue), Oct 29, 2019 (Tue), Nov 12, 2019 (Tue), Dec 10, 2019 (Tue), Jan 21, 2020 (Tue), Jan 31, 2020 (Fri), Feb 18, 2020 (Tue), Mar 3, 2020 (Tue), Mar 10, 2020 (Tue)
Time: 10 A.M. to 5 P.M.
What: Make your own unique items to take home, try wearing traditional Japanese clothing, and experience other Japanese traditions like tea ceremony and flower arrangement.
Price: Varies by activity
For specific details on the activities being offered, including max. participants and prices, please see the program flier PDF or the official Cool Craft Town Nakamachi Street website.