written by Junko
Once you've tried SAWAYA strawberry jam, you can't stop.  It's as flavorful as freshly picked berries.   All products are made by locally-grown fruits.  SAWAYA started the factory in 1952 in Karuizawa which is a famous resort area among westerners.
It takes just one hour from Tokyo by Shinkansen.  http://www.sawaya-jam.com/index.html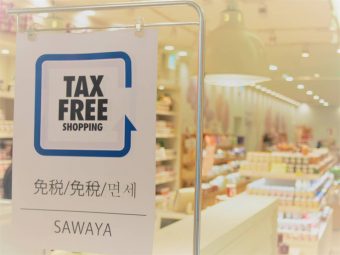 SAWAYA operates five shops and a factory in Karuizawa area, and one shop in Nagano Station. All locations provide tax-free shopping.
The photos are taken at the shopping mall adjacent to Nagano Station.
NAGANO MIDORI 長野市南千歳1-22-6 MIDORI長野店2F    TEL 026-219-6140 Open 9:00〜20:00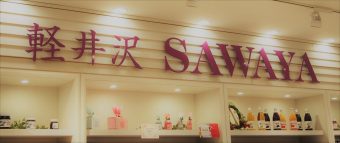 Karuizawa BYPASS 軽井沢バイパス店
〒389-0111 長野県北佐久郡軽井沢町塩沢702
TEL 0267-46-2400/FAX 0267-46-2404
営業時間 9:00~18:00(longer in the summer)
Post-town Karuizawa/ Tea room 旧軽井沢店/喫茶サロン
〒389-0102 長野県北佐久郡軽井沢町軽井沢746-1
TEL・FAX 0267-42-8411
Open 9:00~18:00(longer in the summer)
Post-town Karuizawa Rotary 旧軽ロータリー店
〒389-0102 長野県北佐久郡軽井沢町軽井沢811-2
TEL・FAX 0267-42-0050
Open 9:00~18:00(longer in the summer)
New Karuizawa 新軽井沢店
〒389-0104 長野県北佐久郡軽井沢町軽井沢東1178
TEL・FAX 0267-42-8260
Open 9:30~18:30(longer in the summer)
Prince Shopping Plaza プリンスショッピングプラザ店
〒389-0102 長野県北佐久郡軽井沢町軽井沢
軽井沢・プリンスショッピングプラザ「スーベニアコート」内
TEL 0267-41-0074/FAX 0267-41-0076
Open 10:00〜19:00 (changable in the summer)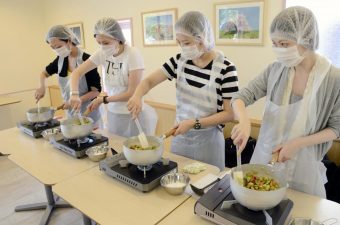 Jam-Making and Jam Factory Tour
Sawaya Jam Factory : 沢屋ジャムファクトリー