written by Tyler
Nagano's Jigokudani Wild Monkey Park is famous for the snow monkeys.  Pictures of the adorable macaques blissfully soaking in their mineral bath with snow covering their furry heads have captivated the world, making the Monkey Park a popular winter destination.  Actually, though, one of the best times to go is in the spring, when the babies are born.  Park director Hagiwara-san, an award-winning photographer in his own rite, shared this picture for us to post here on Unique Nagano, of the first baby born this spring.  We hope you can come and see the cutest snow monkey babies!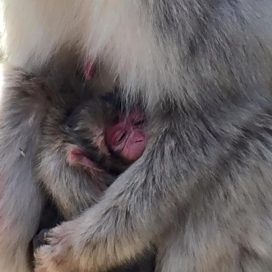 Access to the Monkey Park using public transportation can be confusing. Basically, you have to get to the trailhead at Kanbayashi.  From Nagano Station, that means either using an express bus bound for Shiga Kogen to the "Snow Monkey Park" bus stop (which is a 30-minute walk from the actual park), or Nagaden train to Yudanaka and transfer to local bus to the same Snow Monkey Park stop or the Kanbayashi Onsen stop, depending on the route.  Sample bus / train times for spring/summer/fall 2017 as below (from Nagano Station, and by extension, Togura-Kamiyamada Onsen.)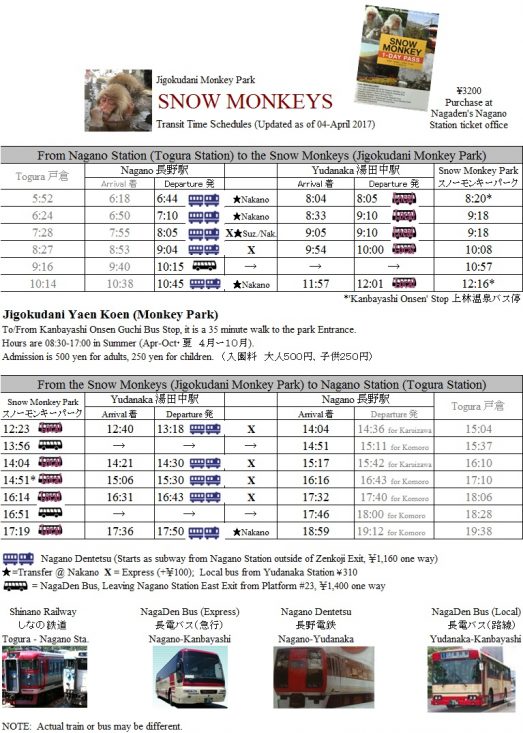 Click here for more.