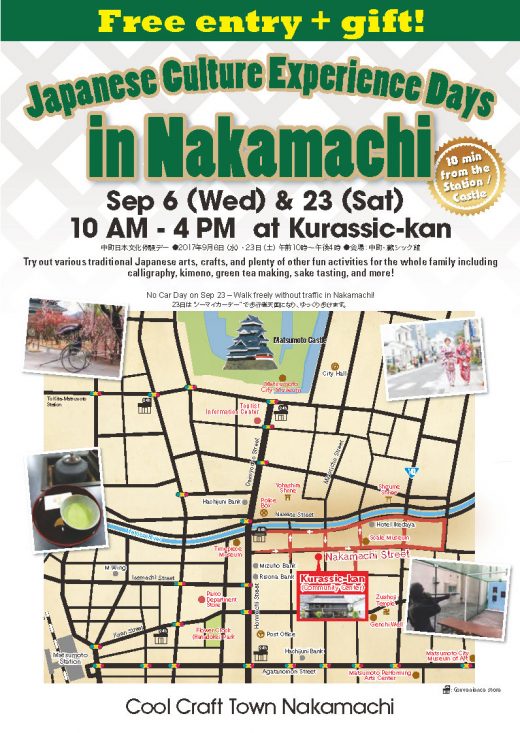 Nakamachi Shopping Street, which is located in Matsumoto City, is holding a fun Japanese culture event at the Kurassic-kan on Sep. 6 (Wed) and Sep 23 (Sat). Here you can try all kinds of Japanese arts, crafts, activities, and other cultural experiences, not to mention everything is hands-on and mostly free!
Besides the main event at the Kurassic-kan, several of the shops and restaurants around Nakamachi will also be offering cultural activities like traditional games or food/drink tastings. See below for a list of activities and where you can get the official details, event flyer, or see the event on Facebook!
There will also be volunteers providing translation/interpretation to help with communication, including local high school students and local guides. So not only is this a great opportunity to experience Japanese culture, but also a nice chance to communicate with the locals!
* A report of Sep 6 is here.
Event Details
Place: Kurassic-kan in Nakamachi, Matsumoto
Date & Time: Sep. 6 and Sep. 23, 10 am – 4 pm (times for activities at the shops differ. Check the event flyer or webpage)
Event webpage: http://nakamachi-street.com/en/experiencedays/
Event on Facebook: https://www.facebook.com/events/1607791399271217/
Get the official PDF flyer here which includes a map and all activity details:
List of main activities at the Kurassic-kan:
Origami folding
Japanese calligraphy
Japanese Tea Ceremony (traditional way of making matcha green tea)
Japanese folding fan decorating
Play with old-fashioned and traditional Japanese toys
Sake tasting with Nakamachi's original-brand sake
Kimono (yukata) and ninja costume rental (paid activity)
Rickshaw rides around Nakamachi (paid activity, discount with kimono rental)
Ninja blowgun activity (paid activity, free with ninja costume rental)
List of shops offering activities around Nakamachi:
Geiyukan: Try plaing the shamisen, a traditional Japanese music instrument.
Kuriya: Make fresh wasabi from real wasabi root.
Senri: Japanese wine, sake, amazake, and juice tasting
Yamahei: Introduction of some Japanese local foods
Yaguchi: Try wearing geta, a traditional form of Japanese footwear.
Ihara: Chopsticks and beans game
Itoya: Play the konpira fune-fune game, a traditional game played at geisha banquets, and other activities.
Okinado Kura Branch: Try playing the Japanese taiko drum. Also, exhibit of traditional tools used for making Japanese confections/sweets
Temariya: Free Japanese tea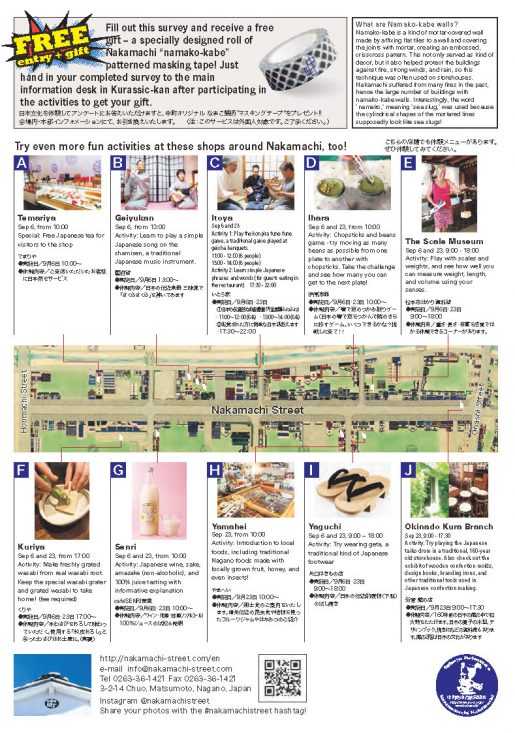 Flyer page listing shop activities. Download the PDF for all the details.